back to Musicordes.fr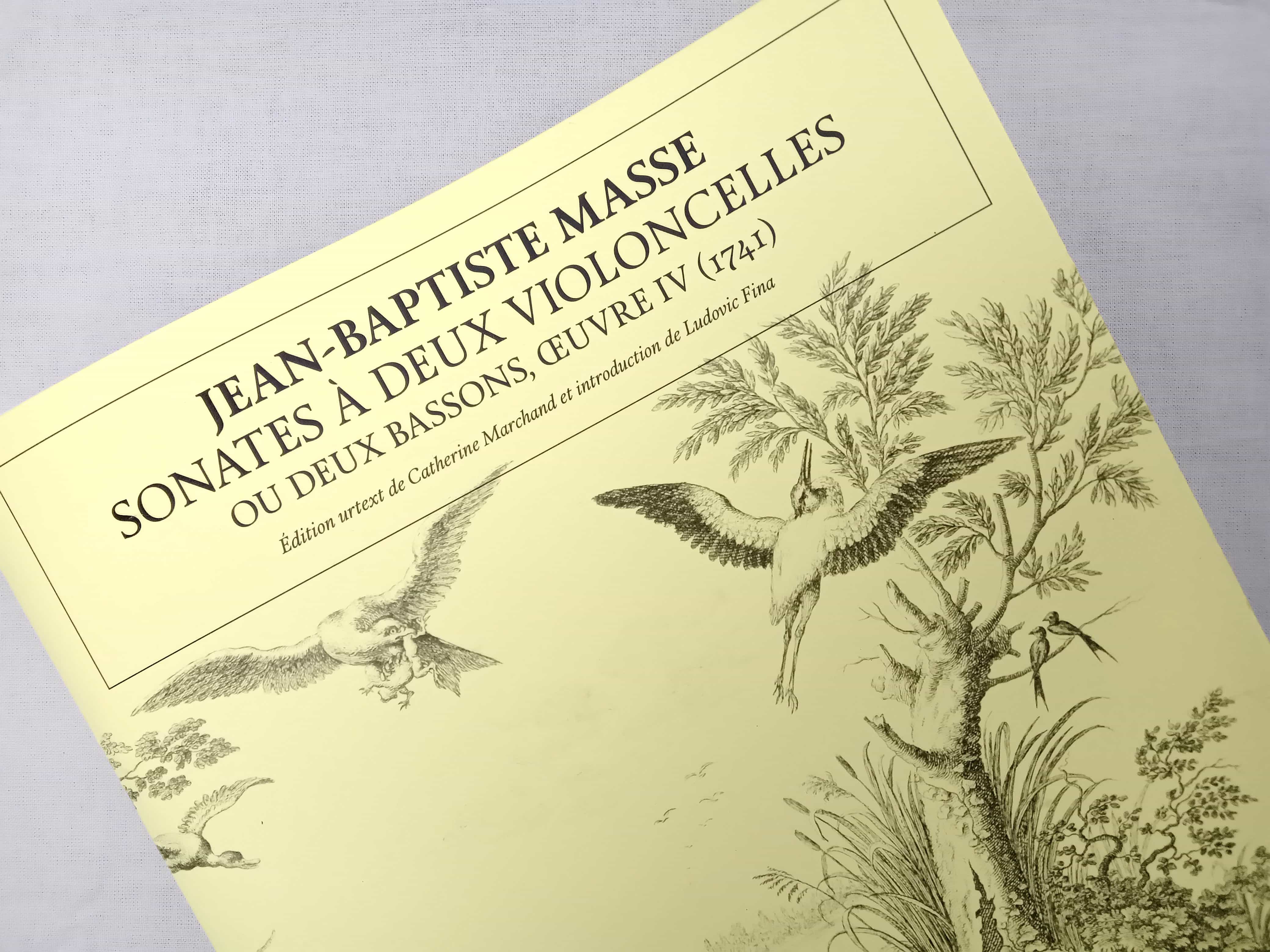 Jean-baptiste Masse,
Sonates à deux violoncelles
ou deux bassons, œuvre IV (1741)
Editing by Catherine Marchand, introduction by Ludovic Fina
Buy
16.00€
The composer
Cellist and bass player Jean-Baptiste MASSE (c.1700-d.1757) was one of the French King's "24 Violons de la Musique de la Chambre de Musique du Roi". He also composed five volumes which form part of the very first sonatas that were written in France specifically for the cello.
Volume 4
This volume was recently re-discovered in the archives of the Bibliothèque Inguimbertine in Carpentras (France) by the cellist Catherine Marchand. It contains 6 sonatas for 2 cellos that were composed in 1741. She decided to edit and publish them at her own expense in a format that is both easy to access and read.
The rediscovered volume is the only extant manuscript by J-B MASSE in France. It is very likely that this group of sonatas was intended to allow cellists to discover an instrument that was yet relatively unknown in France in the first half of the 18th century. It is also quite probable that they were intended to be used to teach cellists to play together in duos in 6 major and minor keys, ranging from C to A. The two parts are on the same level of difficulty.
This score forms part of the early days of the great French cello school, as represented by Martin Berteau (1691-1771), Jean-Baptiste Barrière (1707-1747), Jean-Baptiste Masse (1700-1757) and Michel Corette (1707-1795), the well-known author of the first Cello Method.
About this edition
Editing by Catherine Marchand, introduction by Ludovic Fina and translation by Ellen Moerman.
60 pages, bilingual French-English version.
In editing the manuscript, we have carefully followed the original printed score at the New York Public Library for the Performign Arts. The autograph copy at Carpentras contains very few errors: a few missing accidentals and misplaced slurs. We have therefore kept our own comment to the minimum and just suggest a few (dotted) slurs. For the sake of ease of reading, we have also transposed a few tenor clef passages into the more comfortable bass clef.
Although the rising keys in the Fourth Volume of Sonatas suggest that this collection may have been written for teaching purposes, it is not music for beginners. Just like Masse's Third Volume, and unlike the First, Second and Fifth Volumes (all of which have a figured bass), the Fourth was written for two cello soloists. Finally, both the printed and the manuscript versions carry few dynamics (just a few Forte and Piano), few bow marks and no fingering at all.